At Petal First Baptist you will discover a warm group of real people dedicated to following our Lord and Savior, Jesus Christ. From the moment you walk up to the building you can expect…
A WARM GREETING – A heartfelt greeting is part of what makes a church a church. No matter what question you might have just ask. Our greeters are there to help you get settled and comfortable.
HOT COFFEE – There's nothing like the smell of good coffee at The Coffee Connection to warm you up.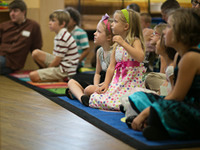 FAMILY FRIENDLY – A family friendly atmosphere where kids want to come back and learn more about Jesus because they have fun and know they are safe and loved.
CONVERSATION – Expect to be noticed. Expect people to say something like, "Hi, we haven't met before, is this your first time?" Expect people to reach out to you in love.
WORSHIP – We love music, all kinds of music. From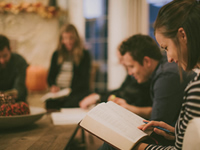 hymns to praise choruses we use music to show our Lord how much we love and honor Him.

TRUTH – The Bible tells us to speak the truth in love. The Bible is God's truth. We seek to explore, understand and apply God's truth to our lives at every level in a spirit of love. You will find a growing variety of resources to help you grow in God's truth.
FOCUS – Just before returning to heaven Jesus taught his disciples (and us) to go and make disciples. This is the great commission (Matthew 28:18-20). This is the focus of all we do. Every ministry seeks to maximize the discipleship making capacity of our church.
The information table in our foyer is a great place to find flyers and sign up sheets for upcoming events and message series here at Petal First Baptist! To the right is our office space. Stop by here during the week to be greeted by our friendly and helpful office staff Teresa Dickens and Brittany Sumrall. If you have any questions or would like to meet with one of our pastors, they can help you with that too!
Phone: 601-545-3198