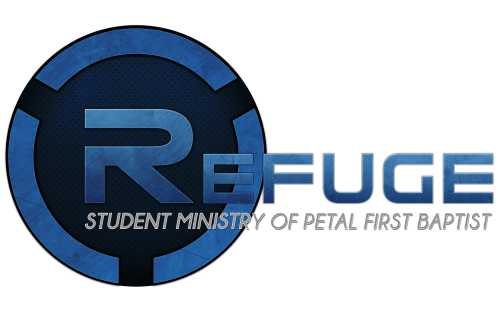 In light of COVID-19, click the links below for resources we encourage you to use at home:
The Mission of the Student Ministry of Petal First Baptist is to help students become disciples who make disciples. We have developed three environments to help our students become disciples. These environments are:
Encounter - Refuge - Wednesdays @ 6pm
Refuge is designed every week to help students encounter God in a safe environment. Students are constantly bombarded with messages from the world that God isn't real, or if He is real then he does not care for them. Our students need a Refuge where they can experience God through a time of worship through music and a message from God's Word.
Our services are designed so that students hear practical and God revealing messages. God revealed himself to us through His Word and through Jesus. As we study His word, students are challenged with questions such as: What should I do with God? Do I really believe in Jesus? Where does this God and Christianity fit into my life? Do I really believe this or is this just something my parents believe? If I really believe this, how will I live?
___________________________________
Equip - Life Groups - Sundays @ 9am
Sunday Morning life groups are designed so that students will be equipped to grow in their relationship with God and others. These small groups exist to connect students to other students and to connect students with caring and loving adults. These small groups provide opportunities to develop relationships that will encourage, inspire, offer accountability, and give a sense of purpose to his/her life.
It is vital that our students connect with adults that are living their lives to the Glory of God. Many students today come from broken homes where either one or both of their parents are not Christian. It is our responsibility to display the love of God through loving these students. Students do not care how much you know until they know how much you care.
___________________________________
Engage - Missions
The result of true discipleship is students going and changing their world. If the process stops before it reaches this step then all we have done is taught students about what Jesus has commanded. However, remember that the final step is obedience. Students must obey everything that Christ commanded, which includes the Great Commission and Great Commandment: Love God and Love others.
Through scheduled times of service, students will learn what it means to follow Christ daily. We provide several opportunities throughout the year such as working with the children and preschool ministries, leading in worship services at church or nursing homes, mission camp, and mission trips.
___________________________________
Parents - We need you!!
A successful student ministry relies on parents and adults who are willing to invest in the events, activities, as well as the programs of our student ministry. There are many opportunities to serve in our student ministry.
Sometimes families or students will opt for one environment while excluding others. We believe that it takes all three environments to truly disciple a student. Please allow and encourage your students to be a part of everything we do as a student ministry.
Contact Student Pastor, Chris Robbins:
___________________________________
Release Forms